About Noble

Pressure Cleaning
If you are a homeowner or a business owner in the state of Florida, then you know that Floridian weather can wreak havoc on your home or commercial property.  Frequent storms and excessive moisture paired with extreme heat can create a perfect environment for mold and fungus to grow. In order for you to provide the optimal environment for the maintenance of your building materials, you must clean your exterior areas frequently. 
The professional staff from Noble FL LLC are your local experts for all types of pressure washing projects, and we welcome the opportunity to work with you anytime you have outdoor cleaning projects on your list of things to do.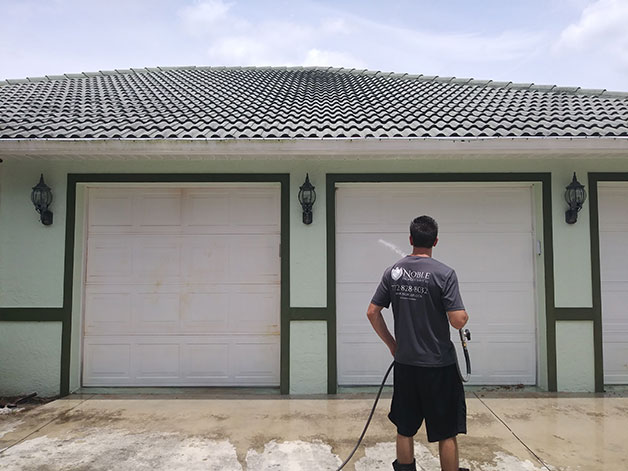 Proudly Serving 

The Treasure Coast & Northern Palm Beach County
Our expert staff at Noble understand that you take great pride in, and put a lot of effort into, taking care of your residential or commercial property.  Caring for a piece of real estate is a big responsibility, and a conscientious property owner must pay close attention to the needs and nuances of their property. 
Our professionals recommend that property owners should have the exterior surfaces of their property pressure cleaned about every year or two.  Variances will depend on your specific environment, as well as your own personal preference. When you are ready to clean the exterior sections of your home, business, or a variety of other areas on your property, then contact us for assistance.  We believe that our services can provide great benefit for you and for any hard-surface area on your property.
5-Star Rated

Port St Lucie Pressure Washing Company

Our team works diligently on every project that we tackle.  We are thoroughly trained and we are equipped with some of the best equipment available for our industry.  We have a variety of pressure cleaning services that we offer to our customers, and we try to always work with your schedule and your calendar, in order to meet the demands of your own daily living or your business plan.

When it comes to Exterior Cleaning, Nobody Beats Our Service! We are proud to provide the Power Washing Port St Lucie Residents trust most!

Please contact us today to learn more about our our company or the Exterior Cleaning Services we provide.  We look forward to meeting you!
Donita B.