Gutter Cleaning
 The gutter system of your home or business is a very important system, and it should be cared for on a regular basis.  The gutters protect your home from many potential hazards, including; wood rot, water leaks, damage to other parts of your home, and many other reasons.  Properly functioning gutters and downspouts will help your building materials last longer, as well as limit the appearance of dark streaks and stains from occurring along the sides of the gutters or of your home. Our team at NOBLE is well-equipped to take care of your gutter cleaning projects, and we welcome the opportunity to work with you anytime!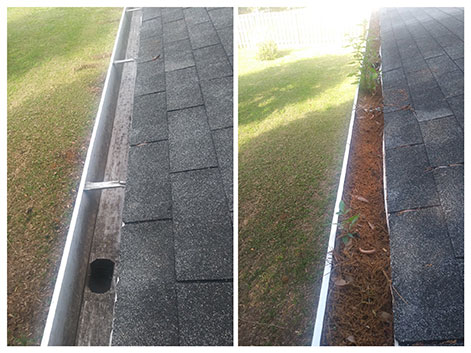 NOBLE team members have the knowledge, the experience, and the tools to clean your gutters and downspouts thoroughly, whether you have a residential property or a commercial property.  We know that your place is a big investment for you, and we will do everything that we can to help you take care of your property.  
Our gutter cleaning service is guaranteed to clear your gutters of leaves, sticks, roof and shingle particles, and anything else that has fallen into your gutter system.  Furthermore, we will ensure that water runs freely through your gutters and downspouts, thus preventing any damage from occurring to your home. We also offer services for installing, repairing, or removing gutter guards.
Our professionals use effective and safe cleansers, in order to ensure that the interior of your gutters and downspouts are cleaned properly, to ensure your gutter system works efficiently. If you are interested in exterior gutter cleaning please check out our house washing services!  Additionally, we always follow all safety protocols, so you can rest easily knowing that we take proper precautions for our safety, your safety, and the safety of your property.
If you would like to learn more about our gutter cleaning service, or receive a free estimate of a potential gutter project, then please contact NOBLE today.  We look forward to working with you anytime!
Donita B.