Commercial Services
The team of professionals at Noble provides a wide range of exterior cleaning services for our commercial customers.  We know that the success of your business depends greatly on the appearance and the cleanliness of your property. Below, you will find a list of our commercial services and a short description of each.  If you have any questions, then please contact a Noble associate today!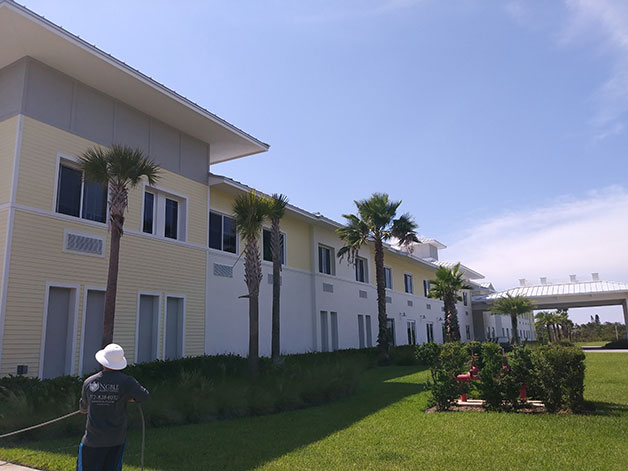 -Building Washing:  From the very top to the very base of your commercial property, we will clean your building of grime, dirt, pollen, insect nests, mold, mildew, algae, or any other unwanted, and unattractive, substance.
-Drive-Thru Pressure Cleaning:  Whether you have a restaurant, a bank, a dry cleaner, a pharmacy, or some other drive-thru business, cleaning this area is vital for the appearance of your business.  We will clean the overhang, the walls, and the concrete areas completely and thoroughly.
-Sidewalk Pressure Cleaning:  An amazing transformation can be made when you have your sidewalks cleaned professionally by one of our team members.  Your customers and your staff will all feel more welcomed to your property.
-Pool Deck Pressure Cleaning:  A pool deck can be a place of danger, with unwanted substances that are both harmful and dangerous.  We can pressure clean your deck area and restore it to a like-new condition.
-Lanais/Pool Enclosure Cleaning:  Enjoy your enclosed pool area once again, with a thorough cleaning by a true professional.  We clean the screens and beams inside an out using a low pressure method to prevent any damage to your screens!
-High Dusting:  Are you having a difficult time reaching areas that are above normal height ranges?  No worries; we can take care of those tasks for you, and we are fully equipped to do so, too.
-Porter Service:  We can keep your business running smoothly with a variety of services that we provide.
-Algae/Mildew Removal:  Not only is algae, mildew, and the like, unattractive, but it can also be harmful.  We will rid your property of all signs of unwanted substances, such as these.
-Dock Cleaning:  Sprucing up a dock area can be challenging work, but our staff has advanced training and can tackle any type of dock cleaning project.
-Exterior Furniture Cleaning:  Let us keep your outdoor furniture clean, thus clearing up your calendar for other fun things to do.
-Sanitation/Disinfecting: Public restrooms and hard surfaces of commercial spaces are generally flooded with traffic, which means regular sanitation and disinfecting is imperative! Contact us today to schedule!
-Commercial Tile Cleaning:  Cleaning tile can be a meticulous chore, but our team of professionals has mastered the art of tile cleaning and we can help you with any size project.
-Playground Cleaning:  Let us help you take care of our youthful folks, by cleaning your playground equipment from top to bottom.
-Stone/Slate Cleaning:  Mold and algae can make stone or slate surfaces unattractive and dangerous.  We thoroughly rid these surfaces of those nasty elements with our cleaning service.
-Gum Removal:  Ever noticed those dark, round stains along the sidewalk?  Those are the residual effects of chewing gum, and they can be very hard to remove.  We know how to rid your property of those ugly marks and stains.
-Graffiti Removal:  If you have issues with graffiti on your commercial property, contact us, we'll make sure it looks like it never existed!
-Water Fountain Cleaning:  Over time, every water fountain will need to be cleaned thoroughly, from mildew stains to hard water stains we can restore your fountain back to it's original beauty with our proven techniques and professional equipment.
-Rust Stain Removal:  Those orange rust stains can be an eyesore along the surface of your building materials.  We can remove them for you with our special rust removal service.
Donita B.